REGULATIONS OF THE
INTERNATIONAL CHARITABLE FOOTBALL TOURNAMENT SALT MINE CUP 2018
VINTAGE 2002/2003
25th - 27th MAY 2018
• Host: Little Champs Foundation
• Date: 25-27.05.2018
• Location:
- sport grounds of Górnik Wieliczka and Lesser Poland Voivodeship athletic grounds
- artificial grass ground (A)
- grass ground (B)
• Maximum number of allowed team members: 18 players and 4 members of the training staff
• Number of players allowed on the pitch: 11
• Subs: any (hockey rules)
• Playing system:
a) tournament will be played with a system of 2 groups consistent of 4 teams each in which all teams will play with each other at least once.
After the group stage is concluded, teams that finish 1st and 2nd in their groups will face teams from places 3rd a 4th from the other group in the playoffs stage.
1A - 4B
2A - 3B
1B - 3A
2B - 4A
Winners of the playoffs will advance to the semi-finals and play for the places 1st to 4th, losers f the playoffs will play for the places from 5th to 8th accordingly to the tournament tree from the match day.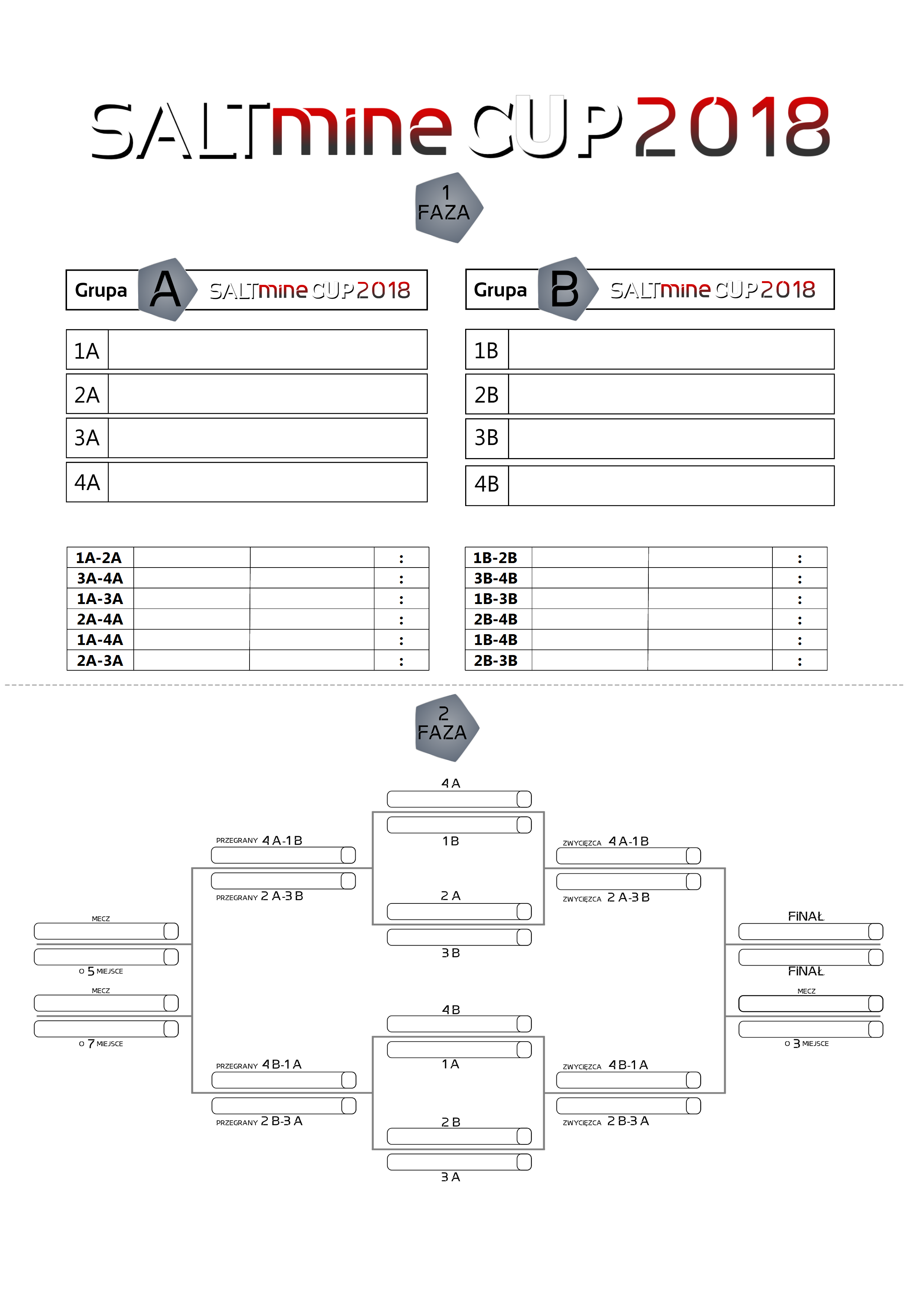 b) places in the group will be determined respectively by:
- number of points
- result of direct matches
- goal difference
- larger amount of GF (Goals For)
- penalty shootout (3)
- in the event of same exact result in more than two teams, a new so called "small table" is taken into account with the result of games only regarding the teams in question
• Pitch size: 105 x 70
• Goal size: 2 x 7m
• Goal size: number 5
• Match time: 2 x 25 min or 2 x 22 min (established on the match day)
• Player timeouts: 3 - 5 min
• Game rules: Gaming rules are with accordance with regulations of Polish Football Association considering age group: younger juniors
• Insurance: Teams participating in the tournament ensure insurance to their players on their own.
• Required medical records and ID: teams participating must present medical card or records of their players and documents which will confirm players identity if required. For the lack of those the team's coach will be to blame.
• Medical care: Medical care will be provided by the host
• Awards:
- all teams will be given trophies
- individual awards:
1. Top goalscorer - statuette
2. Best goalkeeper - Statuette
• The host will provide water and beverages
• The host will not be held accountable for any accidents which may occur pre, during or post tournament
• Participation in the tournament is a consent to personal data processing and image of the participants in promotion of the event
• All matters left unmentioned in the regulations will be resolved by the host
• Each team will play 6 matches (est. 265 minutes)
• Each players must play wearing protecting gear